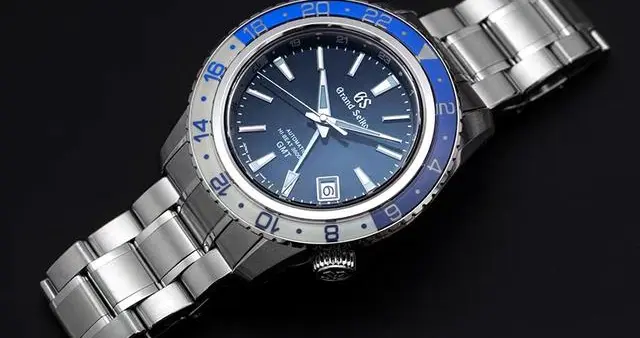 Although the bezel refers to the Seiko GS as the Oriental Rolex, the attributes of Seiko GS are still very different compared with Rolex. Perhaps it is the reason for the Seiko brand's own personal positioning. At the beginning of its establishment, GS was based on "the noble in the ordinary" It is launched for the design concept, which is very different from the image of Da Jin Lao in our image. If you use two kinds of people to describe the two. GS is like a low-key industry tycoon on the Phaeton. The temperament of successful people is inadvertently revealed. Rolex is more like a real estate tycoon in the back of Mercedes-Benz S-Class.
Having said so much about the two views, let's take this "Tai Chi circle" diving watch recently launched by Grand Seiko as an example, and continue to talk about the topic of GS.
Let me talk about the 44mm diameter first. The craftsman thinks that it is a little inappropriate. As a sports watch that needs to take into account daily leisure, it needs to meet the needs of most people. Generally, the diameter design of 42mm is just right.
The blue and white ceramic outer ring is indeed very handsome, but the shortcomings follow. You will find that the combination of the two is too plain, and it does not bring us the same visual impact as the Rolex Pepsi circle. Tai Chi circle gives us My feeling is the "slow heat type", and I need to wear it for a while and savor it carefully to feel its beauty.
The classic Seiko crooked crown has an outstanding design and is practical and comfortable to wear. The dark blue dial and sword-shaped hands can be said to be a symbol of GS inheritance from generation to generation. The GS logo at 12 o'clock and the crown shows its noble status. In the details, the case is supplemented by drawing process and mirror polishing process at the corners. This can be said to be the ultimate level of craftsmanship.
In terms of function, it is equipped with GMT dual time zone function, 200m professional diving level design, and the function performs well. The core is equipped with the 9S86 movement developed by Seiko for the GS series. The +4s/-2s daily difference exceeds the level of the Swiss Observatory. The 55-hour power storage is more than enough for daily wear.
Generally speaking, this Tai Chi circle has very good workmanship and functional equipment, but it may be the reason why I don't like this kind of plain color matching. This work always gives me an unnatural feeling. I don't know if you like this kind of GS. ? And can such a GS be comparable to the Rolex Water Ghost? Leave your opinion in the comment area.