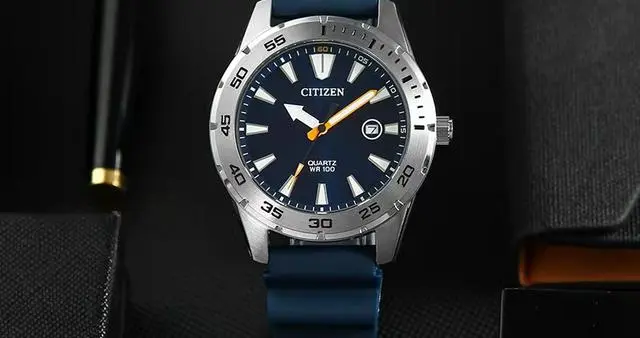 When it comes to entry-level watches of thousand yuan, Citizen, Casio, and Seiko have monopolized this gear. And the reason why the three have been favored by watch friends for many years, a very important factor is the long-lasting durability of the watches they create, and today our protagonist is a quartz watch from Citizen, in addition to continuing In addition to the high durability characteristics of branded watches, the appearance design also makes the craftsman fall in love at first sight. As for his performance? What are the advantages and disadvantages, we will continue to talk.
In terms of appearance design, the first thing that attracted me was his diving watch-like design and satin-brushed polishing process. The bezel did not use aluminum bezel like other thousand-yuan watches. The "natural steel color" made him look More fortitude.
The 42mm diameter, 11mm thickness design and 72g weight are in line with the positioning of a sports watch, but I personally think that quartz watches can be made lighter and thinner, which can reduce the weight of the wearer's wrist during exercise. , So that the sports experience is better.
The watch mirror is made of mineral reinforced glass, which is stronger than sapphire crystal glass, but its wear resistance is not as good as sapphire glass. The choice of this material is more suitable for his sports watch positioning, so that it can have better resistance to pressure during exercise. In daily wear, accidental bumps and friction may cause small scratches on the surface.
The hands and scales are filled with luminous materials, and the effect is good when reading at night, and the 100m waterproof design can fully take into account your daily swimming needs.
After talking about his advantages and disadvantages in terms of practicality, let's take a look at his design. This work has two dial colors of "blue and green". The blue is more vibrant, and the radial pattern dial is more eye-catching; and the green dial is more attractive. Gradient grainy patterns are used for decoration, which has a more or less retro charm.
Generally speaking, compared to Seiko mechanical watches in the same gear, this Citizen quartz watch is more worry-free, with a simple and beautiful overall design, and sufficient comprehensive capabilities in other aspects. The only thing about his "table mirror material", It is better to choose sapphire crystal glass, after all, daily work and life occupy most of the people's time.
Well, let's talk about it today. Friends who like watches, pay attention to me. If you are thinking about buying a watch but are wondering whether it is worthwhile, follow me, leave a message or private message, the craftsman will be the first to see Reply to everyone at once, thank you for your support!